Ed Davis continues to advance his career, despite his history
For those who haven't read my book or visited my website, Ed Davis is not the hero that the media has portrayed him to be. There is evidence to suggest that he manipulated investigations to put innocent men in jail, that he coerced a woman to lie about an incident in order to frame innocent officers and deny them promotions, that he altered police records to make it look like he was doing a better job than he actually was, and that his promotional and discipline policies as Chief in Boston and Lowell were rife with discrimination.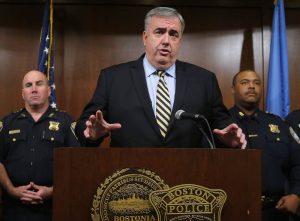 Then there is my story. Ed Davis did everything he could to destroy my career. He said I desecrated the dead body of one of my close friends. I have evidence suggesting that he lied to the other police chiefs in my area about me, preventing me from transferring to a more friendly department when things got bad. He took all of my positions away when I lightly disciplined one of his compatriots after he put several other officers in danger due to his actions. He lied about me in court and the courts saw right through it.
But he still got promoted to Chief of Police in Boston. He served on advisory boards that were designed to outline best practices for police departments in Massachusetts. He received an honorary degree from Harvard University. He became a security advisor to a number of large corporations and started his own company. He was featured in a movie about the Boston Marathon Bombing. And now he is serving as an advisor to Fox news.
We have to stop idolizing and rewarding people for negative behavior in our society.